Invisible Browsing VPN for Torrenting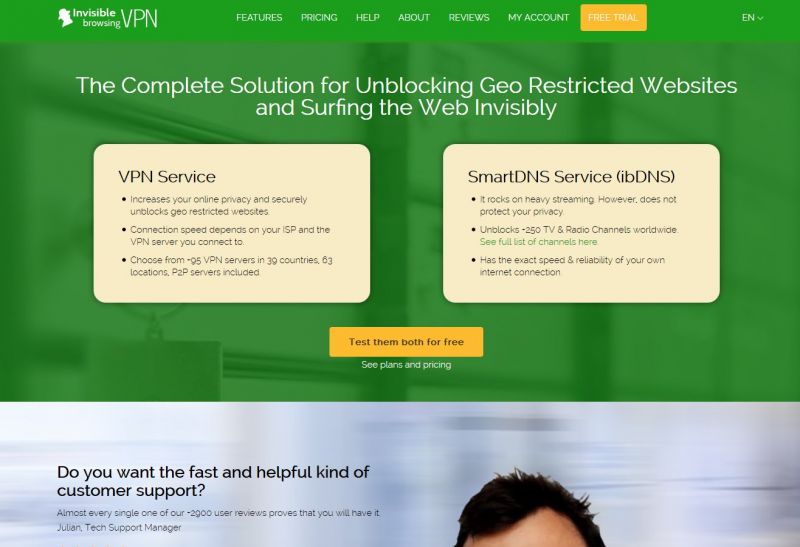 Visit Website
Money Back
15 days money back
Payment Methods
Paypal, Paypro, Avangate, Payza, Atropay, Credit Card, Cashu, WU Pay,
Bitcoin
Clients
Mac OS, Windows, Linux, iOS, Android
Log Files
yes, 7 days connection logs
Encryption
PPTP, L2TP, OpenVPN, SSTP
Filesharing
in some countries (Luxemburg, Netherlands, Canada)
Download Limit
no data limit
Protocols
PPTP, L2TP, OpenVPN, SSTP
Max Speed
20 Mbit Download
23 Mbit Upload
Pro
Bitcoin accepted 24 hour free trial
Contra
they keep connection logs for 1 week
IBVPN is one of the budget VPN providers that does offer services for BitTorrents and other file sharing services. It's not always possible to download torrents with a virtual private network (VPN) provider due to copyright issues, however IBVPN offers servers based in nine different locations, such as the Netherlands and Luxembourg specifically for this purpose.

The invisible torrent VPN service from IBVPN is an economical choice for consumers who wish to anonymize their internet use particularly when carrying out torrent downloads or P2P file sharing. The service offers access to nine different servers in various locations and all other benefits of the securely encrypted VPN tunnel are incorporated into the package.
How to use Invisible Browsing VPN for torrenting
Once a customer has downloaded the most appropriate plan from IBVPN it is quite a simple matter to log into the service and conduct anonymous file sharing activities. The Ultimate and Total VPN plans also offer torrent downloads from five different countries and nine server locations in addition to the IBVPN torrent plan. Users can download the software to Windows, Mac, iOS or Android devices and the Ultimate plan does offer customers opportunities to run two simultaneous connections, which can be a useful facility when mobile devices are frequently logged into the Internet.

Using the anonymous file share facility via the dedicated servers is just a simple matter of connecting in to the best available server which will then allocate an anonymous IP address to the customer, allowing torrent downloads and file sharing to be conducted via the encrypted VPN tunnel as and when customers need the service. Another drawback experienced by customers making frequent downloads is throttling by the ISP, logging into an anonymous IBVPN IP address means the ISP is unable to track any user activities so this annoying slow down will never again occur.
Customer Benefits
There are many customer benefits for users of VPN services these include total privacy when logged into the service and the ability to unlock blocked websites or services. Users of mobile devices will find the security offered by IBVPN means they can surf the net with confidence from any WiFi hotspot or insecure location and will be safe from any third party eavesdropping or hacking.
Anonymizing with IBVPN for torrenting
BitTorrent and uTorrent services now count around 150 million users each month and copyright issues raised by Governments and corporate bodies are becoming more aggressive towards Internet users considered to violate copyright. This makes it extremely important to anonymize identity when file sharing and avoid issues over copyright arising at all. If protecting online identity is a factor for anybody wanting to carry out torrent downloads and file sharing then finding the best VPN provider to guarantee an anonymous service has to be a major priority.
Servers & Countries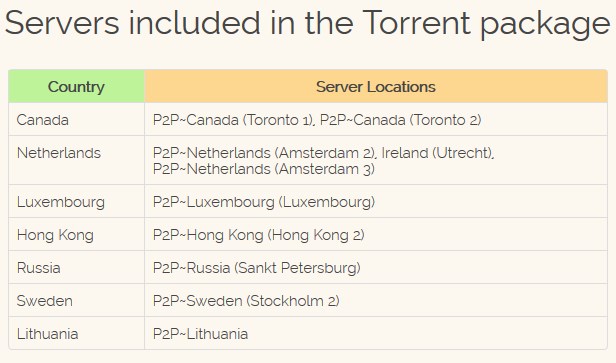 IBVPN has VPN Servers in the following countries: Japan, Sweden, Turkey, Russia, France (2), Romania, Finland, Italy, Australia, Luxembourg, Germany (4), Switzerland, United States (25) United Kingdom (10) Netherlands (6), Panama, Singapore, Ireland, Canada (3), New Zealand, Hong Kong, Egypt, Spain.
Go to IBVPN.com