IPVanish VPN for Torrenting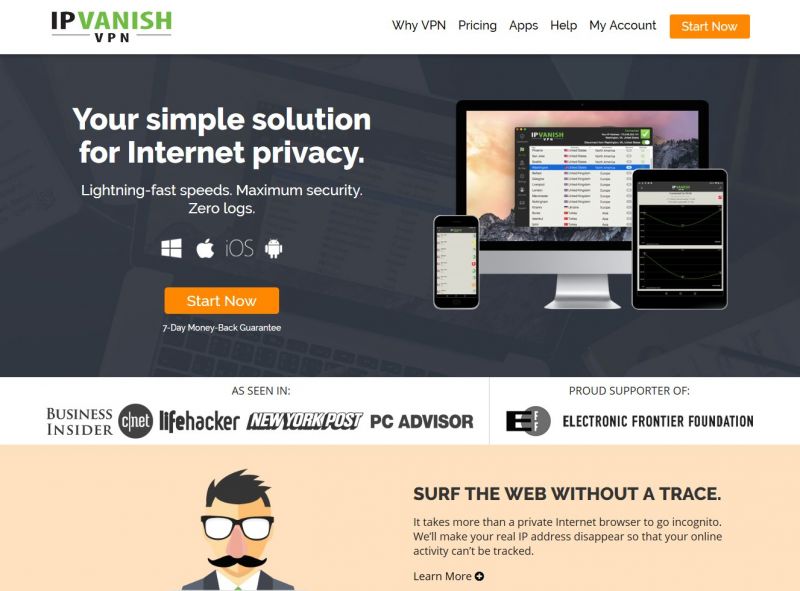 Visit Website
Features
Over 15 years experience
IPVanish owns a largenumber of servers around the world
Proprietary software with many features
Lied about their No-Logs Policy
Clients
Windows, Mac OS X, Android, IPhone/IPad
Download Limit
no data limit
Filesharing
Torrenting & Filesharing allowed
Money Back
7 days money back guarantee(100%)
Prices
Duration 12 months: $6.49
Duration 3 months: $8.99
Duration 1 month: $10.00
Max Speed
22 Mbit Download
10 Mbit Upload
Protocols
OpenVPN, L2TP, PPTP
Log Files
Lied about their No-Logs Policy
Encryption
Depending on the protocol:
OpenVPN = OpenSSL library (3DES, AES, RC5, Blowfish),
PPTP = MPPE,
L2TP = RFC 4835 (3DES oder AES)
Payment Methods
Credit Card, Paypal,
Bitcoin
IPs
40,000+ IPs in 60+ countries
Contra
US-based company (NSA, Gag Orders)
Lied about their No-Logs Policy!
Pro
Fast VPN for torrenting Bitcoin accepted Offshore servers SOCKS5 feature for torrent software
News: IPVanish lied about their logging policies. You can read everything about it in this article. We do not recommend to use them anymore.
IPVanish VPN is a popular, global provider of Virtual Private Networks. The company's strict zero-logging policy means it could be considered a popular choice of VPN for customers wishing to share files or download torrents. The service offers a wide variety of VPN server locations in Europe, North and South America, Oceania, Asia and Africa. In total IPVanish has more than 500 servers in over 60 countries at May 2016, and these numbers are continually growing.
Launched in 2012, the purpose-built service has already made a name as the most privacy-minded VPN service in the industry. IPVanish both owns and operates every layer of its service, from the physical server hardware and network architecture, to in-house software development and customer support. All traffic that passes through the IPVanish network is encrypted in real-time and carried all the way to the last mile over this proprietary infrastructure. Very few, if any other providers, operate a Top Tier (also called a Tier 1) backbone, which explains why IPVanish generally tests as the fastest (by far in many cases). This also means that IPVanish can (and does) offer a genuine zero logs policy. Other providers who claim to offer a logless policy actually use 3rd party (DNS) hosting providers, which compromises the ability to truly honor and enforce a zero log policy for their users. That was a Lie! As a self-owned and operated VPN provider with the most transparent Privacy Policy in the industry, no competitor can guarantee the security that IPVanish can.


Ever wonder why you start seeing choppy video streams or slow page loads in the evening hours with some providers? This is because their network is maxed out during peak times and unable to sufficiently handle the traffic increase. Contrary to the aforementioned scenario, the IPVanish network has massive capacity in place to not only deliver high-speed VPN connection, but to deliver sustained download speeds.
Key Features
Absolutely ZERO Logging
IPVanish does not record, store or monitor any of their user's VPN activity or data. IPVanish also accepts Bitcoin for users looking to avoid any association with recorded transaction data.

No timestamps or logfiles for network connections are recorded
No activity or traffic logs for VPN use are recorded

Lied about their No-Logs Policy
Unlimited Bandwidth & Unlimited Server Switches
IPVanish offers users both unlimited data transfers and an infinite number of server switches, empowering subscribers to use secured VPN connection as often as possible. Their server network is very fast compared to other providers, and their unlimited server switching as well as their DPI (deep packet inspection) feature allows you to evade ISP and government deep packet inspection.

Unrestricted bandwidth
Unlimited server switches
Deep Packet Inspection defense
Unlimited Number of Installed Devices
IPVanish software and apps can be installed on as many devices as a user desires to provide flexibility in network protection and usage. However, only two devices can be connected to the VPN connection simultaneously (1 device using OpenVPN and 1 other device using either L2TP or PPTP).

Unlimited software installations
Up to 2 simultaneous VPN connections
NAT Firewall Protection
IPVanish provides NAT (network address translation) firewall protection to users when they are connected to the VPN service. NAT firewall prevents malicious entities like botnets and hackers from exploiting your computers and mobile devices.
Allows P2P Traffic
IPVanish places no restriction on Peer-to-Peer traffic, like BitTorrent and TOR. So if P2P file sharing is what you're looking for, you can go for IPVanish.

Unrestricted P2P and TOR traffic
Security
IPVanish makes use of 256-bit AES encryption, which means that the product offers excellent military-grade security. In addition, user privacy is further guaranteed by the use of shared dynamic IP addresses, which adds another layer of anyonymity to ensure that any individual user's activity cannot be identified. Moreover, every component of the IPVanish service, including app development and customer support, is managed internally. In fact, the company does not even log connection times, which maintains one of the most comprehensive logless privacy policies in the VPN market.

Lied about their No Logs Policy.

By removing the middleman, IPVanish is best-equipped to make sure that user information remains protected.

256-bit AES encryption
Shared, dynamic IP addresses
Self-owned and operated from every service vertical, no 3rd parties
Supports Multiple Protocols
IPVanish offers connections over PPTP (128-bit encryption), OpenVPN (128-bit encryption) and L2TP (256-bit encryption). They also provide connections over the IPSec and IKEv2 protocols for their mobile apps.

OpenVPN
PPTP
L2TP
IPSec
IKEv1, IKEv2
Allows Bitcoin Payment
Bitcoin can be used to pay for an IPVanish subscription. Bitcoin is a global, encrypted currency that enables anonymous payments for goods and services in order to protect user privacy.
7-Day Money-Back Guarantee
New subscribers can process a refund on their payment in the event that they wish to discontinue their services within 7 days upon registration of their account.

100% refund within 7 days of purchase
Customer Support
IPVanish offers expert 24/7/365 email support for their customers in addition to a growing, user-contributed knowledge base.
IPVanish's policy concerning P2P traffic
One of the major attractions of P2P traffic is that it cuts out the "fat cat" middleman and allows file sharing of data that may be copyrighted. Downloading files of this nature often takes place from offshore servers that don't have the same copyright protections in place as countries like the United States.
From the perspective of P2P traffic using the IPVanish service, the company confirms that they support unlimited P2P traffic. And in deciding not to keep either connection or activity logs That was a lie, they literally cannot tell who participates in filesharing and who does not. When we asked them about their view on P2P / Torrenting, they said: "We just deliver the bits."
When customers go ahead and sign up with IPVanish, they will find that service has very affordable pricing and offers a reliable, speedy service with good customer support. Mobile device users will find the iOS and Android apps of a high standard and the overall performance of the IPVanish service is excellent.  The software can be downloaded from this website.
Where P2P traffic is concerned it's an easy matter to log into a server location, once the IPVanish encrypted tunnel is activated. The IPVanish server allocates a unique IP address to the customer and the originating IP address is withheld from that point onwards. IPVanish can also allocate shared IP addresses which in theory should make it more difficult for specific users to be identified, thus ensuring complete anonymity. The independent review of the service was rather cautious about whether or not individuals could be identified from shared IP addresses and seemed to feel that

Network
IPVanish owns over 500 anonymous VPN servers throughout more than 60 different countries. These regions include: Costa Rica, Latvia, Argentina, Sweden, Italy, Malaysia, Egypt, Portugal, Kyrgyzstan, Belgium, Iceland, Lithuania, Czech Republic, Netherlands, Israel, Romania, South Africa, South Korea, Bulgaria, Norway, Switzerland, Indonesia, Germany, France, Hong Kong, Australia, India, Thailand, Luxembourg, Poland, Canada, Malta, Brazil, Austria, Russia, Slovakia, United Kingdom, Hungary, Mexico, Spain, Singapore, Saudi Arabia, Denmark, Japan, Ukraine, Turkey, United States, Finland, Panama, New Zealand and Croatia.
North America – 199
South America – 4
Asia – 75
Oceania – 39
Europe – 209
Africa – 6
More are on the way as well, as IPVanish increases their server network continually.
60+ countries
90+ major cities
500+ VPN servers
40,000+ shared IP addresses
Applications
As far as VPN services go, IPVanish offers one of the widest ranges of support for different devices and operating systems. They provide automated software for the most popular platforms including Windows, Mac OS X, iOS, Android, with manual configurations for the rest.
Device Compatibility
Windows Phone, Ubuntu, Chromebook, Android TV, and an assortment of routers are compatible with IPVanish through manual setups. Detailed tutorials for setting up the VPN client on each of the compatible devices and operating systems listed above can be found by looking on their setup page.
Windows OS
Mac OS X
iOS
Android OS
Windows Phone
Ubuntu
Chromebook
Android TV
Kodi
Routers (DD-WRT, TomatoUSB, Sabai OS)

Pricing
As with other VPN service providers, IPVanish's plans allow customers to choose different subscription lengths, with a bigger discount for the longer plans.
1 Month Plan (per month): $10.00
3 Month Plan (per month): $8.99
1 Year Plan (per month): $6.49
7-Day Money-Back Guarantee
IPVanish offers a 7-day money-back guarantee, which allows customers to test the product and claim a refund if it is not to their satisfaction.
Payment
In terms of payment methods, customers can choose between a major credit card or PayPal. Payment can also be made via Bitcoin; and because the company only requests an email address and password, payments can be made completely anonymously, offering even more privacy protection. Some additional international forms of payment are also accepted.
Visa
MasterCard
American Express
Discover
PayPal
Bitcoin
JCB
Visa Electron
Delta
IDEAL
Bancontact/Mister Cash
Giropay
Boleto Bancário
CashU
Alipay
Go to ipvanish.com