TorrentPrivacy VPN for Torrenting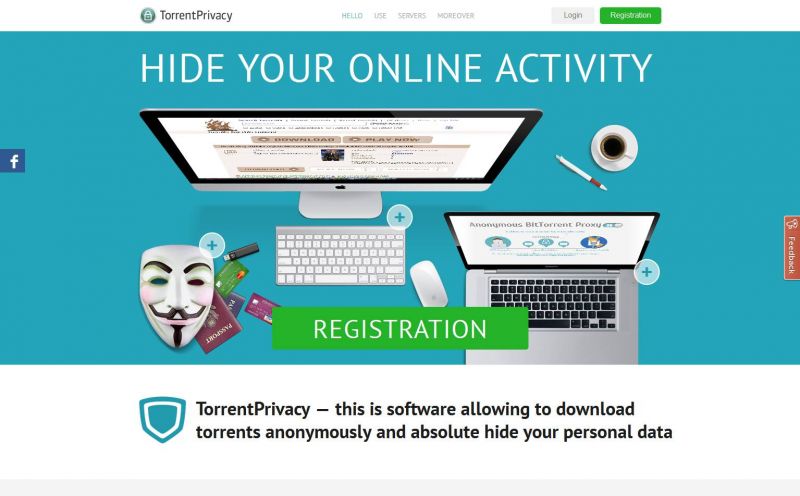 Visit Website
Clients
Windows, Linux, Android, iOS, Mac
Money Back
30 day money back guarantee
Payment Methods
PayPal, Credit Card
Company Location
Great Britain
Filesharing
allowed on all servers; this service is perfect for filesharing
Download Limit
no limits at all!
Pro
specializing in Torrent, but still no real anonymity Perform allegedly no Logfiles and don't forward customer information (but legislation change could force this)
Contra
no anonymous payment method Logfiles uncertain: provider indicates to refrain from logs (but according to British legislation required) only 2 protocols only 3 countries available
TorrentPrivacy has been providing anonymous proxy services since 2007. Any consumer looking for the ideal VPN or proxy service for torrenting and filesharing would do well to consider this provider, as it was specifically set up for torrenting consumers.
Benefits of TorrentPrivacy VPN
The TorrentPrivacy service is available on seven day free trial and customers also have the benefit of a 30-day money back guarantee, so this is one company that does provide customer assurance of its services. This is not the largest provider on the market and doesn't offer many servers or server locations, however, where consumers need to know their fileshare activities cannot be monitored in any way, this may be a great provider.
TorrentPrivacy guarantees it does not log customer activity and places no restrictions on customers. Anybody looking for the ideal way to carry out torrenting anonymously should check out the free trial from TorrentPrivacy, and learn just how the service works.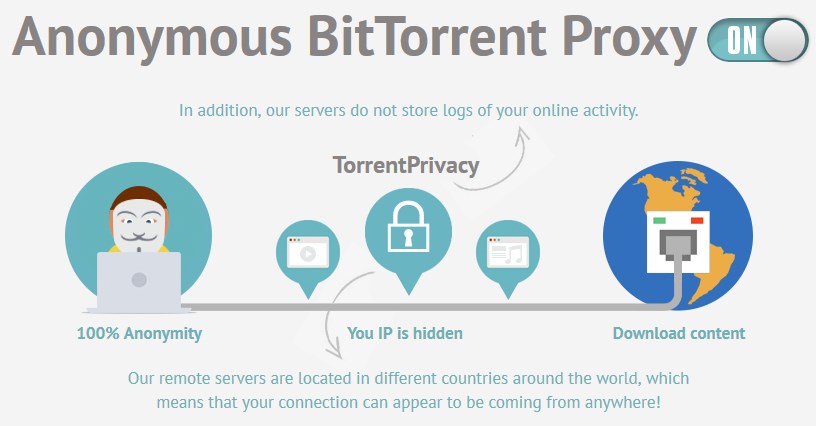 Ideal for Filesharing
The benefit of anonymous VPN and proxy servers is the fact customers have total anonymity while the service is active. The customer IP address is masked within an encrypted tunnel and the provider allocates an alternative IP address which cannot be traced. This is ideal for anybody who has concerns about copyright issues that may be raised as a result of some fileshare or torrenting activities. Internet consumers have been known to receive copyright infringement letters and legal correspondence asking for substantial payments in the past when they have used services which can be classed to infringe copyright. Once the consumer is hidden behind an anonymous identity there is no way for email or IP addresses to be traced back.

With TorrentPrivacy the seven day free trial and money back guarantee should ensure consumers have a full 30 days or more to check out the service and make sure it suits their needs. Once a consumer signs up for the TorrentPrivacy plan, the service is billed on a monthly basis. This service is compatible with PCs running Windows, Macs and Android devices, however it is not currently available for iOS devices.
Downsides of TorrentPrivacy VPN
There are some downsides to this provider as some reviewers have stated the service is not very fast and that servers can be down for some time. The company's support services are not considered to be that good either.
The only way to really make a full judgment on the service from TorrentPrivacy is to sign up for the free trial and check it out.
The Server Locations of TorrentPrivacy VPN
TorrentPrivacy operates servers in the United States, the Netherlands and Sweden. If you're planning to use it for filesharing, we recommend to use only the european servers even though they allow filesharing on every server.

Go to torrentprivacy.com